Sangyo Miraikichi Tochigi Chuo (Mibu Hanyuda)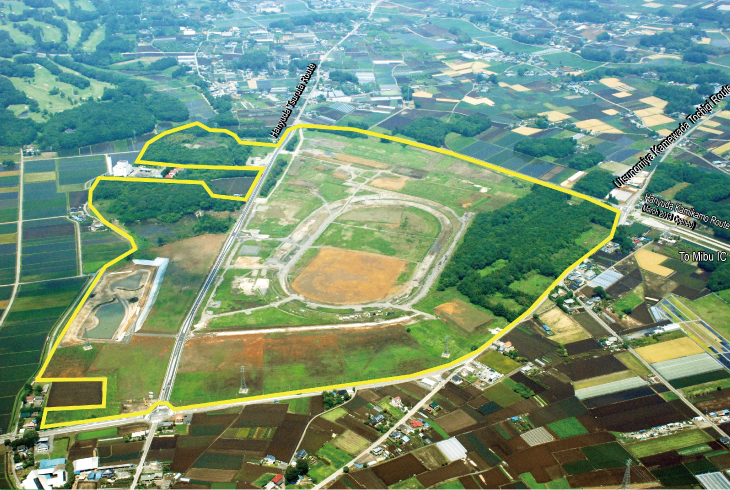 Profiles
Location
Mibu-hanyuda Industrial Park, Mibu
Date of development
2008 〜
Total area
86.5 ha.
Use districts
Exclusive industrial districts, Area planning is available.
Building standards
Building coverage ratio 60%, Floor area ratio: 200%.
Soil
Loamy layer, Pumice, Gravel layer
(Stable ground with a gravel layer (N-value: 50) at approx. 10m deep, and a bedrock of tuff at approx. 35-40 m deep from the ground surface )
Water
Mibu Town municipal water.
Drainage
To drain to the exclusive drain pipe, after processing by each company individually.
Electricity
High voltage(6kV).
Special high voltage(66kV)is available to be led in.
Gas
LPG
City gas-supply is available.
Communication
Optical fiber cable is available.
For Inquiries: Tochigi Prefecture Department of Industry, Labor and Tourism, International Section TEL: 028-623-2194
Access
By Train
5.0 km, 10 minutes by car, from Tobu-Kanasaki station on Tobu Nikko Line.
8.5 km, 17 minutes by car, from Omocha-no-machi station on Tobu-Utsunomiya Line.
(After the completion of new access road: 4.5 km, 8 minutes by car )
By Car
7.5 km, 15 minutes, from Mibu interchange on Kitakanto Expressway.
(After the completion of new access road: 3.6 km, 5 minutes )
8 km, 16 minutes, from the Kanuma interchange on the Tohoku Expressway.
3km, 6 minutes, from National Route 352.
3km, 6 minutes, from National Route 121.
Google Maps will be displayed when Java Script is enabled
Incentive System
Incentive System in Tochigi Prefecture
Industrial Location Promotion Fund
Tochigi Industrial Locations and Clusters Promotion Subsidy
Incentives by Municipality
Name of Municipality : Mibu Town.
<Details>
Name of Act, etc.
Requirements for Target Operatorss
Contents
Mibu Town Industrial Promotion Act
(Incentives for fixed assets investment)

Fixed assets investment: 150 million yen or more.
Number of regular employees: 10 or more.
To be operational, for factory etc., within 3 years from the land acquisition.

Incentives for fixed assets investment amount.


1/3 of the equivalent amount of the fixed assets tax (no limit amount).
Period: For 3 years.

(Land Acquisition Incentives)

To acquire land area of 3,000 m2 or more at Mibu Hanyuda Industrial Park from Tochigi Prefecture.
To be operational, for factory etc., within 3 years from the land acquisition.
To continue its business for 10 years after the commencement of its operation.

Land acquisition incentives.
【Fixed assets investment: 150 million yen or more per hectare 】

To grant for 10% of the land acquisition amount.

【Fixed assets investment: Less than 150 million yen per hectare 】

To grant for 5% of the land acquisition amount.

(Employment Incentives)

Designated operators for the incentives for fixed assets investment or land acquisition.
To hire 5 or more new employees of town residents for 1 year or more from the commencement of its operation.

Employment Incentives


Full-time employees: 200,000 yen per person.
Other than full-time employees: 100,000 yen per person.
(only one time for each company, limit amount is 10 million yen)
For Inquiries: Tochigi Prefecture Department of Industry, Labor and Tourism, International Section 
TEL: 028-623-2194