Geographical Location
Situated among the inland prefectures of the Northern portion of the Kanto region, Tochigi is contiguous with the four prefectures of Ibaraki, Gunma, Saitama, and Fukushima.
Location of Tochigi Prefecture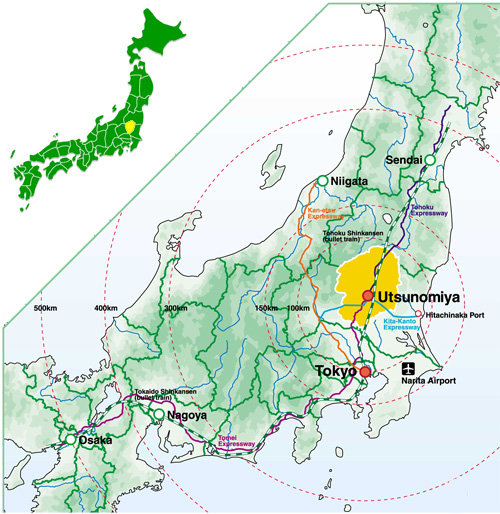 Climate
The climate of Tochigi may be classified as a humid temperate zone in which there are broad variations in temperature. Winters are arid dry winds, while summers are humid and punctuated by frequent thunderstorms.
Utsunomiya Weather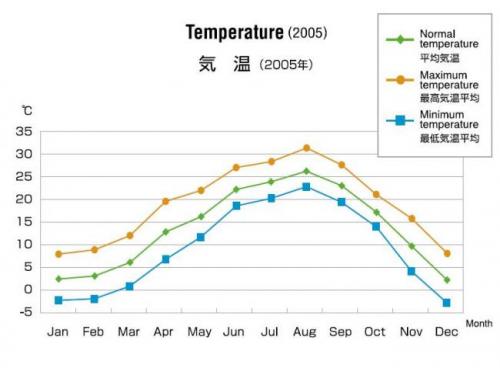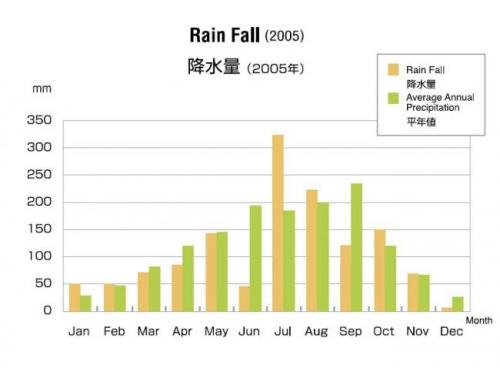 Population-Area-Municipalities
The population of Tochigi, as of March 1st, 2007, was 2,014,931. It was increasing up until 2005. In 2006, however, it started to decrease. The area of Tochigi prefecture is only approximately 6,400sq.km (20th largest in Japan), but the largest in the Kanto region.
About 500,000 people live in the prefectural capital city of Utsunomiya, with the remainder dispersed over 13 other cities and 17towns.
Tochigi Population
Change of Population

| day/month/year | Population |
| --- | --- |
| 1/10/1990 | 1,935,168 |
| 1/10/1995 | 1,984,390 |
| 1/10/2000 | 2,004,817 |
| 1/10/2005 | 2,016,631 |
| 1/10/2006 | 2,015,105 |
| 1/3/2007 | 2,014,931 |
Residential Alien 32,948(2006)
Total Fertility Rate 1.37(2005) (ranked 19th in Japan)
Topography
Situated in the center of the prefecture is the largest open plain in the Kanto region. To the north stand the mountains Shirane(2,578m), Nantai(2,484m) and Nasudake(1,917m). Furthermore, originating in this region are the Kinugawa, Nakagawa, and Watarase Rivers, which flow across the Kanto plain before emptying into the Pacific Ocean.
Data
Income
Average Income (2004) ¥3,062,000 National Rank=6
Housing
Home Ownership (2003) 69.0% National Rank=22
Average Ground Area (2003) 411square meters National Rank=2
Automobile
Household Vehicle Ownership (2005) 2.25 per household National Rank=8
Percentage of License Holders (2005) 67.1% National Rank=2
Percentage of Paved Roads (2005) 61.6% National Rank=15
Population of Cities/Towns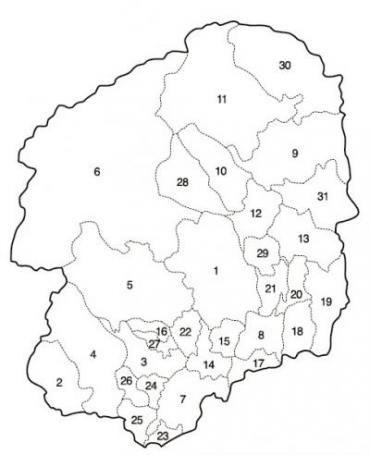 | | Name | Population |
| --- | --- | --- |
| 1 | Utsunomiya | 505,396 |
| | (Utsunomiya) | (460,574) |
| | (Kamikawachj) | (9,539) |
| | (Kawachi) | (35,283) |
| 2 | Ashikaga | 158,511 |
| 3 | Tochigi | 81,861 |
| 4 | Sano | 123,346 |
| 5 | Kanuma | 103,784 |
| 6 | Nikko | 92,702 |
| 7 | Oyama | 161,166 |
| 8 | Moka | 66,527 |
| 9 | Otawara | 78,666 |
| 10 | Yaita | 35,515 |
| 11 | Nasushiobara | 115,183 |
| 12 | Sakura | 41,835 |
| 13 | Nasukarasuyama | 30,782 |
| 14 | Shimotsuke | 59,363 |
| 15 | Kaminokawa | 31,802 |
| 16 | Nishikata | 6,906 |
| 17 | Ninomiya | 16,518 |
| 18 | Mashiko | 25,033 |
| 19 | Motegi | 16,019 |
| 20 | Ichikai | 12,362 |
| 21 | Haga | 16,391 |
| 22 | Mibu | 39,967 |
| 23 | Nogi | 25,930 |
| 24 | Ohira | 28,890 |
| 25 | Fujioka | 17,765 |
| 26 | Iwafune | 18,854 |
| 27 | Tsuga | 13,529 |
| 28 | Shioya | 13,205 |
| 29 | Takanezawa | 31,034 |
| 30 | Nasu | 26,663 |
| 31 | Nakagawa | 19,426 |