The Prefectural Emblem

The emblem is an abstraction of the Chinese character 栃(Tochi), and the three arrow heads allude to the ancient style of writing 木(ki).
Tree: Japanese horse chestnut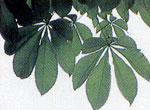 Also called the "Marronnier", this deciduous tree blooms red and white with the advent of summer.
Flower: Rhododendron Albrechtii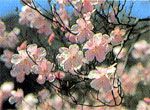 The pink, white and indigo blossoms of this Azalea can be seen in Tochigi's mountainous regions during the spring.
Bird: Blue-And-White Flycatcher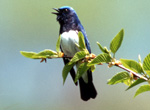 Slightly larger than a sparrow, the Oruri has a vivid emerald back. It migrates from Southern regions in May and then lives primarily in the Nasu Valley, Shiobara, and Nikko until early October.
Animal: Japanese Serow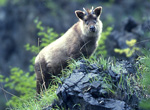 Slightly smaller than a deer, the horned Kamoshika is found in the north western mountains of Tochigi, where it lives on small buds and tree leaves.