Soja Higashi Industrial Park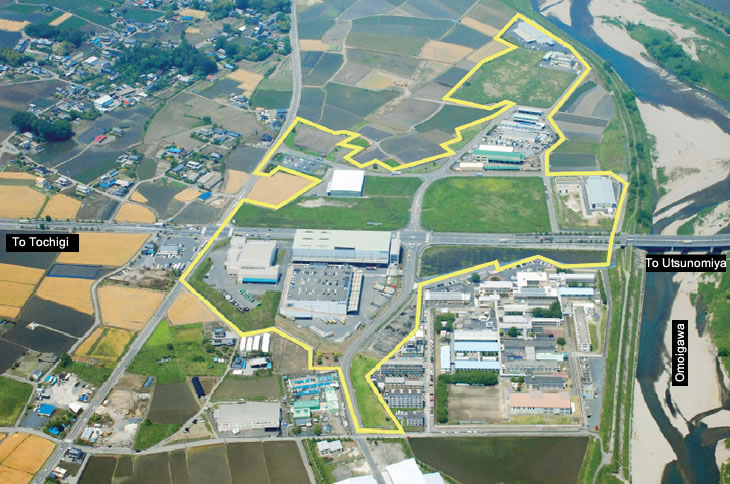 Profiles
Location
Soja District Tochigi, Mibu-otsu District Mibu
Year of development
1997 - 2001
Total Area
21.8 ha.
Use district
Industrial district, Area planning available.
Building standards
Building coverage ratio: 60%, Floor area ratio: 200%..
Soil
Pollution control
To enter into a Pollution Control Agreement based on the Tochigi Living Environment Preservation Act, and to make a contract with local 2 parties.
Water
Municipal water
(2,000m3/day, Charge: 157.5 yen/m3〜)
Drainage
To drain by exclusive drainage pipe after the processing (BOD 8 mg./liter or less) by each company individually.
Electricity

High voltage(6kV)
Special high voltage(66kV): Available

Communication
Optical fiber cable is available.
For Inquiries: Tochigi Prefecture Department of Industry, Labor and Tourism, International Section  TEL: 028-623-2194
Access
By Train
2 km, 3 minutes by car, from Nozu-otsuka station on Tobu Nikko Line.
8km, 12 minutes by car, from JR Jichi-idai station on JR Utsunomiya Line.
11km, 20 minutes by car, from JR Oyama station on JR Utsunomiya Line, or Tohoku Shinkansen.
By Car
7 km, 10 minutes, from National Route 4.
8 km, 13 minutes, from the Tochigi interchange on the Tohoku Expressway.
9 km, 15 minutes, from the Mibu interchange on the Kitakanto Expressway.
Others
7 km, 12 minutes by car, from Tochigi city hall.
25 km, 40 minutes by car, from Utsunomiya
Google Maps will be displayed when Java Script is enabled
Incentive System
Industrial Location Promotion Fund
Tochigi Industrial Locations & Clusters Promotion Subsidies
Special Incentives in Municipality
Name of Municipality : Tochigi
<Details>
Name of Act, etc.
Requirements for Target Operators
Contents
<
Tochigi City Industrial Locations Promotion Act

Invested fixed assets amount: 100 million yen or more(for facility for selling goods: 200 million yen or more).
Number of full-time employees living in the city: 5 ore more(for facility for selling goods: 10 or more).
To start the operation of the factory,etc. within 5 years from the acquisition of the land.
Complete payment for the city taxes

Location incentives

Amount of grants: An equivalent amount of the fixed assets tax. (limit amount: total 300 million yen)
Period of grants: For 5 years.

To satisfy the requirements for the Location Incentives.
To acquire the land from the property agents.

Land acquisition incentives.


Amount of grants: 10% of the land acquisition cost.
For Inquiries: Tochigi Prefecture Department of Industry, Labor and Tourism, International Section 
TEL: 028-623-2194