Company Name
Komatsu Ltd. - Oyama Plant
Address
〒323-8558
400 Yokokurashinden, Oyama City, Tochigi Prefecture
TEL
0285-28-8111
Website
http://www.komatsu.com/
※Click to open a separate window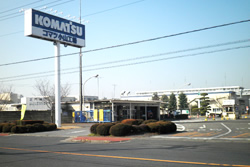 Komatsu Ltd. is pursuing quality and reliability while actively challenging to new technologies and product developments. We visited Oyama plant and interviewed.
Business Basics
In 1917 Takeuchi Mining Industry Co., Ltd. established Komatsu Iron Works, and in 1921, Komatsu Ltd.(here in after Komatsu) was established by separating Komatsu Iron Works from Takeuchi Mining Co., Ltd.
Komatsu group develops businesses of construction and mining machines, utility equipment (small machines), forest machines, and industrial machines, and specifically manufacturing and marketing of hydraulic excavators, wheel loaders, bulldozers, motor graders, forklift trucks, resource recycling machines, and large-sized press machines and laser cutting machines so on.

Komatsu Oyama plant is consistently performing throughout the process of research and development to manufacturing of ,"Diesel engines" which work as a heart of construction and mining machines, "Hydraulic equipment" which work as muscles, and "Axles" which transfer engine power to tires.
Also in the adjacent, Tochigi plant is managing research and development, manufacturing and marketing of utility equipment (small engine powered products).  
Tochigi Prefecture and its Business Environment
Here Oyama City is closely in Tokyo, and has a good access of transportations for both people and products.  
The Tohoku Shinkansen stops in Oyama, and it takes only about 40 minutes from Tokyo. Also it is very convenient when products, such as diesel engines, manufactured in Oyama plant are transferred to other Komatsu's plants (for example to Ibaraki plant) by taking the National Route 50 or Kitakanto Expressway, and for the direction of Tokyo by taking the New National Route 4. 


A few wind or flooding natural disasters is also an advantage in this area. Almost no-flooding damages because of a few torrential rains in summer and snowfalls in winter. Only thunderstorms in summer are expected but relatively fewer than other areas in Tochigi. Abundant human resources and easy recruitment of worker is also attractive. Since Tochigi Prefecture is originally an industrial prefecture, we feel a good quality of human resources are available for our industry.  

 
Made in Tochigi
Komatsu is world No. 2 construction and mining equipment manufacturer, specifically in recently growing market of China and Asia, Komatsu is securing the No.1 market share. The main components which provides the quality and performance of construction and mining equipment are diesel engines, hydraulic components and axles, they are all manufactured in Oyama plant exclusively and supplied to a total of 23 assembly plants in all over the world. We believe that Komatsu's competitiveness is originated from Oyama plant.  

In addition, Tochigi plant is only one exclusive manufacturing plant of utility equipment in Japan. Hybrid forklifts are manufactured in the plant, and Komatsu is the only one mass-production manufacturer of hybrid forklifts.
Contributing Local Community
Komatsu Oyama plant is actively pursuing environment conservation activities, such as a reduction of CO2 and zero-emission activities (no-wasted material activities). Oyama plant is the first plant initiated zero-emission activities within Komatsu.  The zero-emission activities has been spread not only within our company but also in neighboring companies in this industrial park. Through the environment conservation activities, we are cooperating with neighboring companies and Tochigi Prefecture, and those activities had been awarded by the Minister of Economy, Trade and Industry and by the Minister of Environment.
Comments for the People in Tochigi
Oyama plant and Tochigi plant are providing a plant open-day (plant fair) to show our plant for local community people. In the event, our construction machines are demonstrated, and even visitors may sit on operator seat. For children, our smallest size of excavators are arranged to try its operations by an assistance of our engineers.